Please confirm that the GE refrigerator water filter model you are installing is MWF or MWFP and then browse its installation instructions.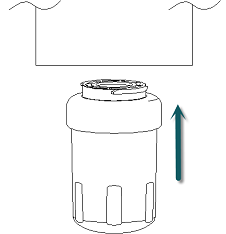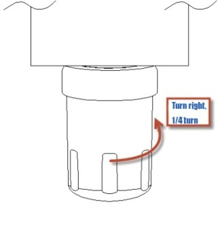 1. On models without a replacement indicator light, apply the month sticker to the new cartridge and mark your calendar to remind you to replace the filter after six months
2. Remove old filter cartridge by grasping and turning to the left about 1/2 turn.
3. Remove the protective foil from the end of the new filter. Fill the replacement filter with a little water from the tap to allow for better flow immediately after installation.
4. Place the top of the new cartridge up inside the cartridge holder. Slowly turn the filter to right until the filter cartridge stops. Do not over tighten. As you turn the cartridge it will automatically raise itself into position. The cartridge will move about 1/2 turn.
5. Run water from the dispenser for 6-8 minutes (about 3-4 gallons) to clear the system and prevent sputtering.
6. On models with a replacement indicator light, press and hold the RESET WATER FILTER PAD on the dispenser.